Associations & Accreditations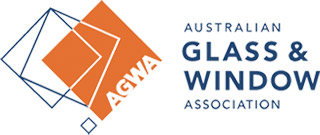 The Benefits of Energy Efficient Windows
At Ultimate Windows, we are an industry leader in manufacturing and installing uPVC windows in Australian homes. With 15 years' experience and 500+ installations complete, there is no one else more reliable or skilled than the team at Ultimate Windows.
Comfort
Winter Thermal Comfort
An older window with a lower glass temperature feels colder because more heat is radiated from a person's body to the window. Cold glass can also create uncomfortable drafts as air next to the window is cooled and drops to the floor. This sets up an air movement pattern that feels drafty and accelerates heat loss. High performance windows with lower U-values will result in a higher interior window temperature in winter and thus greater comfort.
Summer Thermal Comfort
In summer, strong direct sunlight strikes people and interior surfaces, creating overheating and discomfort. Windows with low solar heat gain coefficients will reduce the solar radiation coming through the glass and associated discomfort. Low solar heat gain low-E glass (low emissive) reduces heat gain while still providing sufficient light and view.
Source: Lawrence Berkeley National Laboratory (Lyons and Arasteh).
Cut Your Energy Bills
Heating Season Savings
In climates with a significant heating season, windows have represented a major source of unwanted heat loss, discomfort, and condensation problems. In recent years, windows have undergone a technological revolution. It is now possible to have lower heat loss, less air leakage, and warmer window surfaces that improve comfort and minimize condensation. In cold regions, this means that windows are no longer an energy vacuum to be avoided — increasing glazing area with high performance windows can have little or no affect on total energy use.
Cooling Season Savings
In climates that mainly require cooling, windows have represented a major source of unwanted heat gain. In recent years, windows have undergone a technological revolution. It is now possible to significantly reduce solar heat gain and improve comfort while providing clear views and daylight. In warm regions, this means that high performance windows can face into the sun if desired without great energy penalties — although shading techniques remain important.
Source: Lawrence Berkeley National Laboratory (Lyons and Arasteh).
Energy Efficient Windows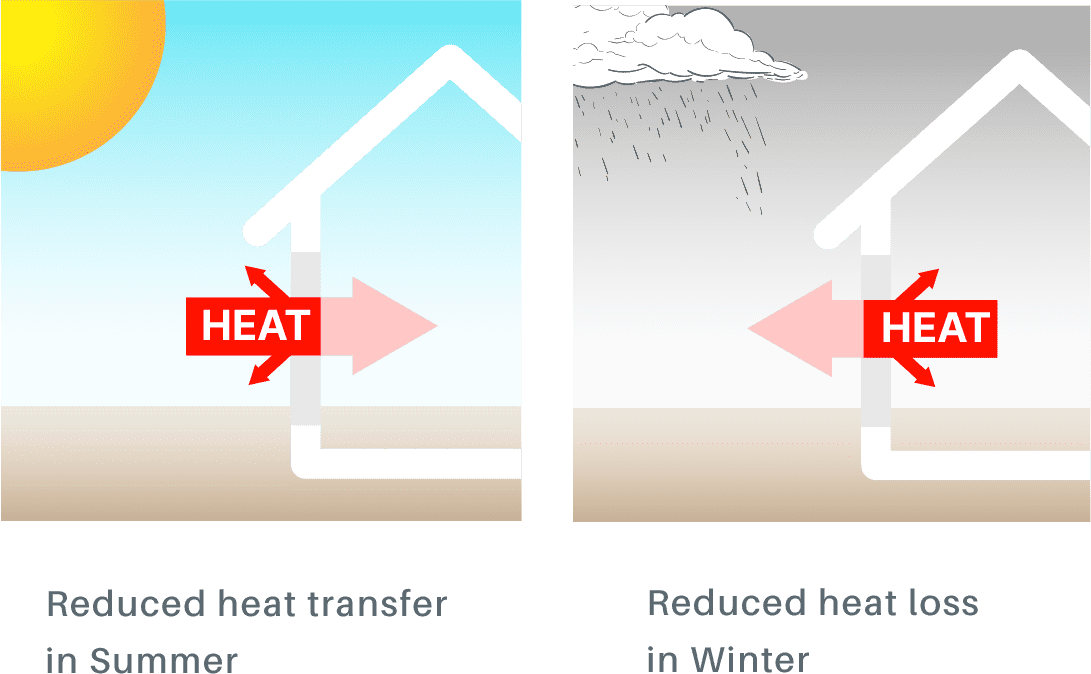 Normal Windows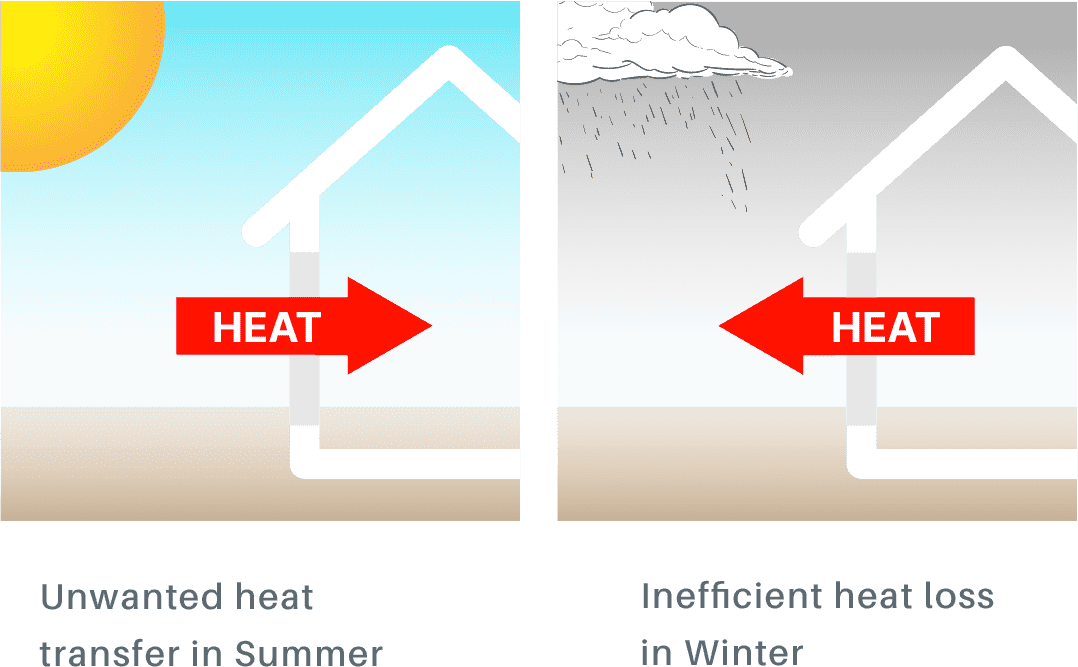 Quieter Homes
Well insulated windows reduce noise transfer from the outside to the inside which can be a huge benefit for in noisy locations.
Reduced Fading
The new coatings on energy efficient windows block out the harmful ultraviolet rays, which cause fading. Coatings on the E-glass can reduce the UV rays by 98 percent. This will save material and woods from losing their bright original colors.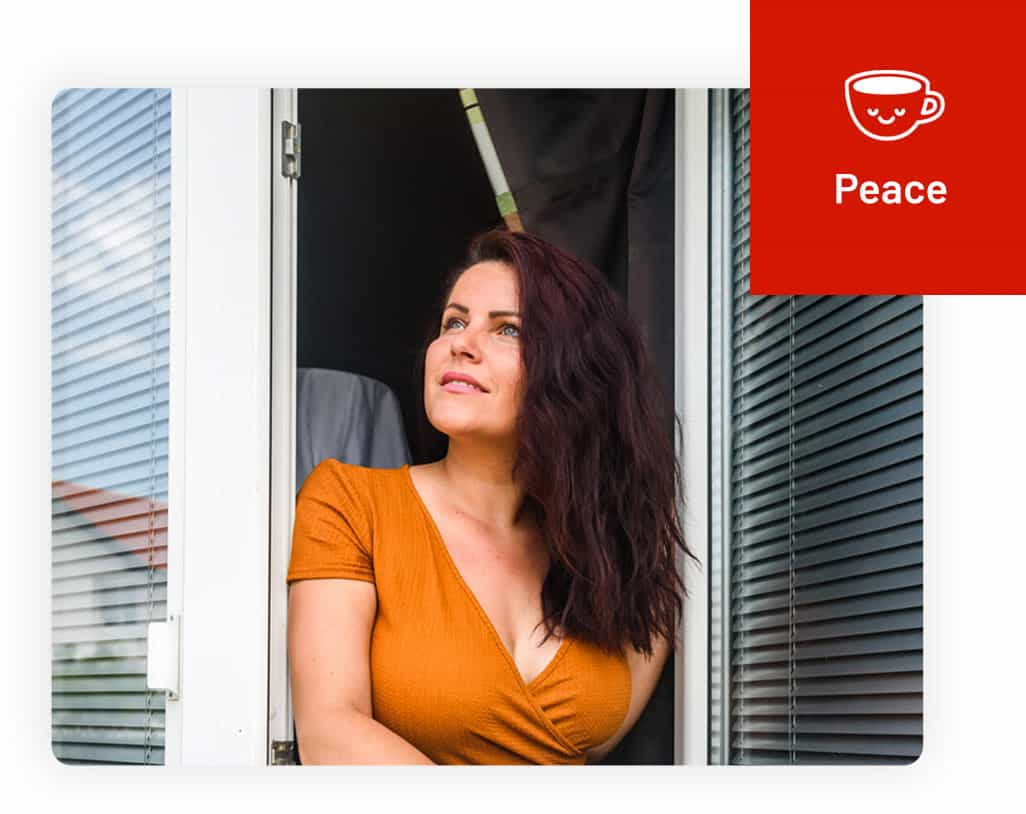 Less or No Condensation
In cold climates, energy efficient windows stay warmer, so windows stay dryer. With reduced condensation, mold and mildew are not a problem around windows. This saves curtains and paint from being damaged. Furthermore, with uPVC windows, the issue of condensation is almost eliminated as uPVC conduts heat over 5,000 times less than aluminium.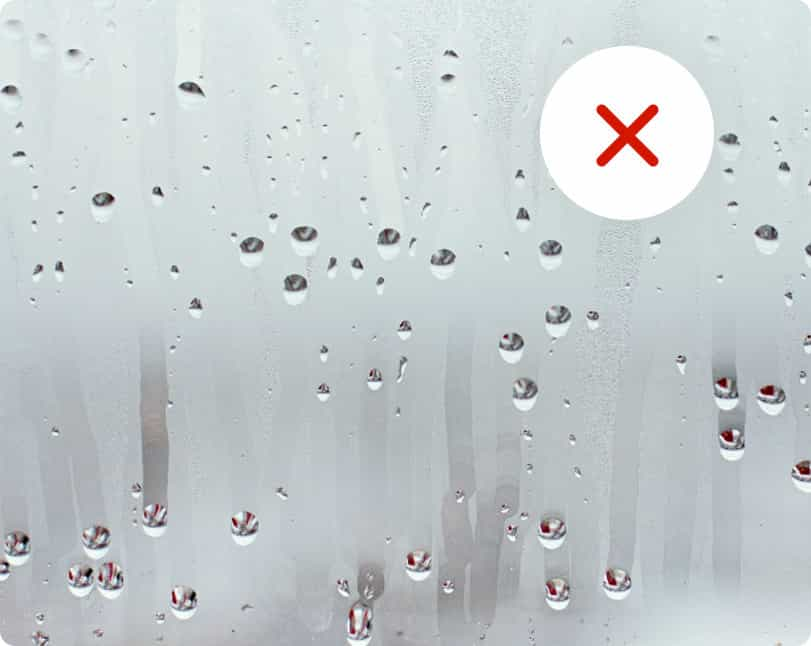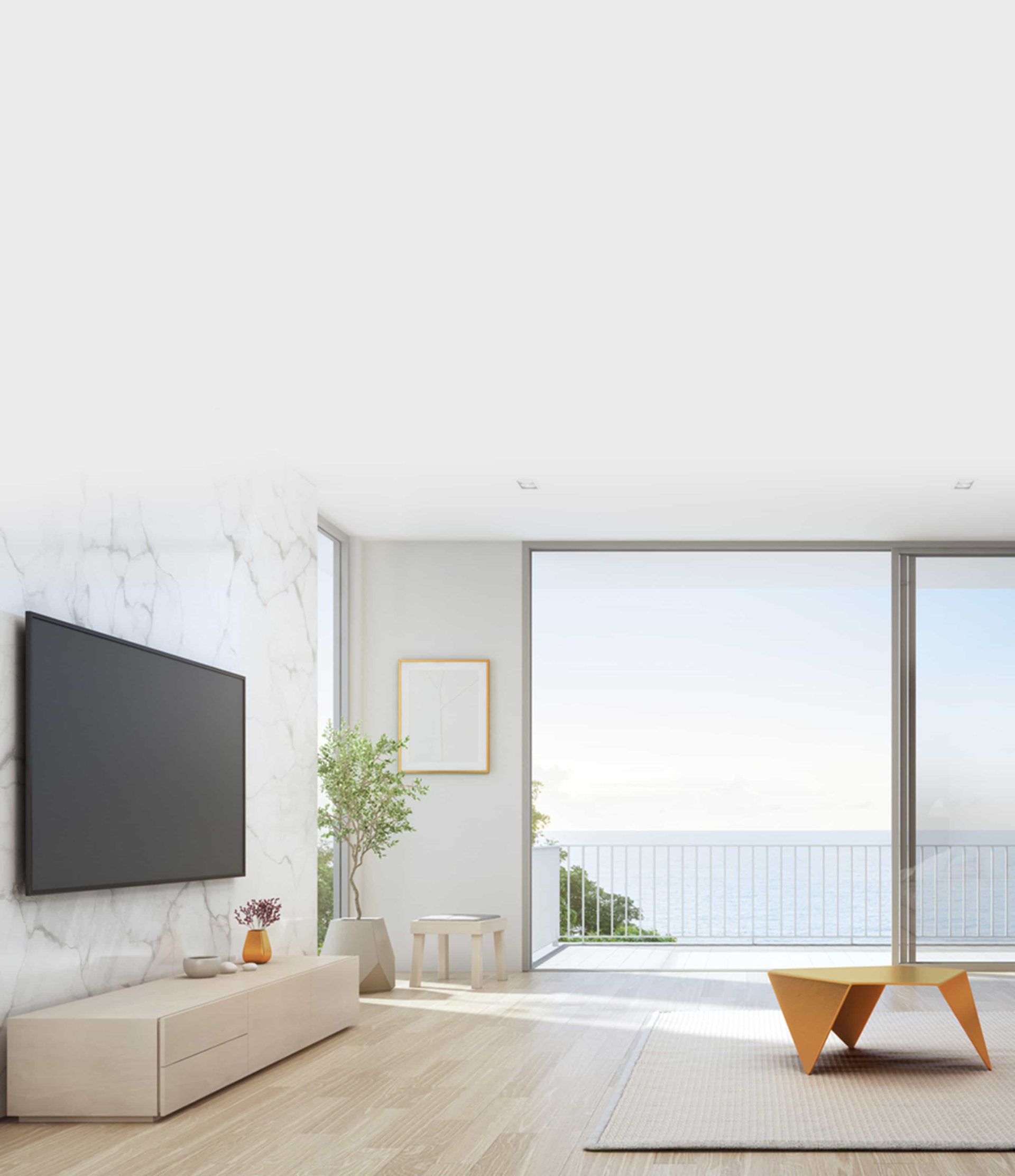 U-value – Heat transfer through a window
The U-value is the rate of heat transferred through a whole window, frame and glass included. The lower the U-value, the greater the window's resistance to heat flow and the better the window is at insulating the heat transfer. A low U-factor is useful during cold days when heating is needed. A low U-factor is also helpful during hot days when it is important to keep the heat out, but it is less important than SHGC in warm climates. Increasing the quality of the frames and moving to double and triple-glazing are the only way to increase the U-value of the window.
Solar Heat Gain Coefficient (SHGC)
The solar heat gain coefficient is a fraction of the solar radiation (sunlight) admitted through a window, either directly transmitted and/or absorbed and subsequently released as heat inside the home. The lower a window's SHGC, the less solar heat it transmits. This is generally achieved through tinting the glass and is most often used on Western and Northern-facing windows
Visible Transmittance – Sunlight through a window
The visible transmittance is the fraction of the visible spectrum of sunlight transmitted through the glass. The higher the visible transmittance, the more daylight is transmitted through the glass.
Air Infiltration – leakage of air through the window
Is the air infiltration through leaks in the whole window. The lower the air infiltration rating, the less air will pass through the window when closed.
Noise Reduction
A window's ability to reduce noise depends on the frame design and glazing as follows:
Frame design – The uPVC frames achieves a high level of sealing between the frame and sashes. Air and noise infiltration are minimised by a series of sealing systems including the thermal break. All Euro
Collection frames have the highest standard of sealing possible to ensure an effective sound barrier.
Glazing options – The uPVC design's enable the use of various glazing options, so the most suitable option can be chosen for your individual need. Taking into consideration the availability of various glass thicknesses, weights & double or triple glazing options, Ultimate Windows will accommodate the most
appropriate glass panel to prevent noise penetration.
Hear Why Clients Love Our uPVC Windows And Doors
Really happy with our new windows from Ultimate Windows. The customer service was efficient and kept us informed every step of the way. The quality of the windows and installation is also fantastic. Definitely recommend this company to anyone interested in getting their windows double glazed.
The team at ultimate windows are easy to deal with and super friendly and efficient. Very happy with our new windows. Would recommend time and time again!
Ultimate Windows did a fantastic job and I wouldn't hesitate to recommend them to anyone thinking of replacing their windows. A huge thank you to Russell, Richard and Damian for making this process smooth and painless.
Fantastic people to deal with! Very happy with my new windows Definitely recommend.
We chose Ultimate for the works which gave an affordable price, for a first-class product and would recommend them to anyone building or renovating
Thankyou so much for our beautiful double glazed windows, they really are a stand out feature in our dream home, we honestly have 100% satisfaction with your product and we always recomend you to our friends and colleagues.
From the beginning to the end the experience was stress free, you and your team were always happy to assist with any questions we had and provided the quote and the delivery of the windows in the timeframe that was promised. We have been extremely happy with the quality of the windows and sliding doors. We have also had compliments from family and friends on how great the windows and sliding doors are.
We were delighted with the service provided by Ultimate Windows, from quote to installation they were easy to deal with and extremely professional in their delivery. We are thrilled with our new windows – they look great and make such a difference to temperature and noise. I would highly recommend their services.
I recently contacted Ultimate Windows to get some professional advice on door styles. The process from start to finish was very straight forward with the wonderful service the Ultimate Windows team provided. The installation of the Magnaline Door happened quickly and we haven't looked back. The finished product has transformed a tired space to an open and more live able area. We love love it.
We would like to thank the great team you sent install our windows.
On time, polite and professional. Left the place nice and clean. Very happy with their work.
We are beyond thrilled with our new windows from Ultimate Windows. Undergoing major structural renovations to our home they provided assistance every step of the way, from planning & design concept to delivery including huge cranes, installation and exceptional after care service. The whole process was extremely easy and professional. They are brilliant to deal with, super friendly and efficient. We are overwhelmed with the quality, innovative design & technology of the uPVC systems. They have reduced our power bills & north facing, we have significantly noticed the difference both in summer & winter, including noise reduction. We highly recommend Ultimate Windows & would certainly go with them again.
Why Choose Ultimate Windows Over The Rest?
Our uPVC windows and doors will reduce your power bill, give you a comfortable temperature all year round and add a stylish finish to your home – all for an affordable price. Plus, our 12-year 'no worries' guarantee keeps you covered more than twice as long as most industry-standard warranty periods. You can't lose!
| Features | Aluminum | Timber | uPVC |
| --- | --- | --- | --- |
| Energy Efficient | | | |
| Low Maintenance | | | |
| Reduces Sound | | | |
| Colour-Fast | | | |
| UV Resistant | | | |
| Bushfire Resistant | | | |
| Affordable | | | |
| Prevents Condensation | | | |
| Secure | | | |
Frequently Asked Questions
Are the windows and doors made in Australia?

Yes, our windows are manufactured in our solar powered factory in Wodonga, Victoria

Will you take away my old windows?

Yes, we remove your existing windows and work with transfer stations to recycle the old windows as much as possible

Do you have a large range of colours?

Yes, our colour range can be viewed in the products section, you can also 2-pak paint to any colour you like. Our colour range for our systems can be found in this document https://ultimatewindows.com.au/colour-selection/. Please note that not all colours are available in all frame systems.

What is the turn around time?

Turn around times vary, it is best to talk to your sales representative from your local area. We aim to have your windows to you in the shortest turnaround possible.

How do they stand up to Australia's high levels of UV? Does it fade?

This is the main reason we chose Deceuninck! Deceuninck have the highest amount of UV stabilising Titanium DiOxide in their uPVC extrusions of all the Australian suppliers. They have had windows in the Middle East for over 50 years and windows in Australia for over 30 years and have been tested for UV stability at the Alunga testing facility

Do the windows and doors come with flyscreens?

Yes, we have flyscreens options for all our windows and doors, most windows and sliding come standard with our own 'Ultimate' flyscreens

Can I have security screens

Yes, most windows and doors can have security screens as an option

Are the windows and doors BAL rated?

Yes, some of our windows and doors are rated to BAL40 with most rating up to BAL29 (with minimum glass thicknesses and metal screening)

I'm building a Passive style house. Can you help?

We sure can! We manufacture the Passive House certified Deceuninck Legend system in our Wodonga factory and have completed several Passive House certified (and non-certified) jobs in Australia

Does the glass have argon gas?

Yes, all our glass has Argon gas as standard (and doesn't cost any extra)

Can I recess the door sill flush?

Yes, we have many floor recessing options

What is the warranty?

We are so sure of the quality of our windows we have increased our warranty out to a industry leading 12 years!

Is there any other hardware options/types/styles and what are the colours?

We have several hardware options and colours available.

What do people do for blinds on Tilt & Turn windows?

Generally customers either use honeycomb blinds (eg Nordic Blinds) or house a blind or curtains over the pelmets to clear the windows opening functions.

Does everything have a key lock and are they keyed the same?

Yes, all the same window and door types have the same keys

What is the difference between uPVC and Aluminium?

Both are the frames for windows, but one is 5,000 times better at transferring heat from outside to inside your home. Bit of a no-brainer as to why uPVC is used in more than 55% of residential window sales worldwide. We're just a bit slow to catch up in Australia!

Claim Your Free Measure And Quote
Ready to claim your free measure and quote, backed by our fixed-price guarantee? Fill out the form below and one of our friendly experts will soon be in touch to organise a suitable time to discuss your needs. You'll find out exactly how our affordable uPVC windows can slash your energy bills and improve the
comfort levels in your home!